FDNY Battalion Tactical Communications Recording Project
System Integration leads to "Productizing."
If you've read about our AATCOMM TCRS product before arriving here, it'll be no secret to you that the Tactical Communications Recording System was designed in response to specifications of FDNY.
Genesis is traceable to a need to capture communications in those first precious minutes of an incident before a specialized recorder-equipped vehicle - field communications unit or mobile command center - can arrive on scene.
The road from concept . . . to pilot project . . . to production can be a long road and in this case it took a couple of years.
Intuition may suggest that this project was connected with the tragic events associated with September 11th, 2001, but in this case, intuition would lead one astray.
A pilot project was specified in early 2000 and while it did not get funded for a couple of years, the need was evident long before the new millennium began. Technology - and budget - simply had not yet caught up with the requirement.
This page presents a glimpse of how we made the trip from "there" to "here." We hope that your imagination will be stimulated and that you'll explore putting us to work for your organization.
AATCSC is a small U.S. business, one of hundreds of thousands of small businesses that some have called, the engine that drives the U.S. economy. We are fortunate to work with the largest municipal fire department in the world, with over 16,000 employees including 11,275 uniformed members deployed from 221 fire houses and who, in 2008, responded to nearly 475,000 FD incidents and over 1.2 million EMS incidents. Vital Statistics
Commissioner Nicholas Scoppetta discusses use of one of our pilot battalion recording systems here.
Are we proud of what we've accomplished? Yes, we are!
.
September 11, 2001
A Tribute: On September 11, 2001 FDNY firefighters and officers rushed to the World Trade Center from all over New York City. First responders from many agencies included men and women, both on duty and off duty at the time. Tragically, FDNY lost 343 firefighters and officers on that day. Losses were suffered by battalions, ladder and engine companies, and specialized units and included high-ranking officers who lead from the front.
During the survey and later deployment phases of our project for FDNY, AATCSC staff observed that many FDNY vehicles proudly displayed artwork honoring the memory of fallen comrades. Occurring throughout New York City, one cannot fail to be moved when seeing the words: "All gave some; some gave all."
Pilot Prototype System
Click on the image below to enlarge. The pilot project required that after design, three systems be built and installed in battalion vehicles, one each in Manhattan, Brooklyn and the Bronx.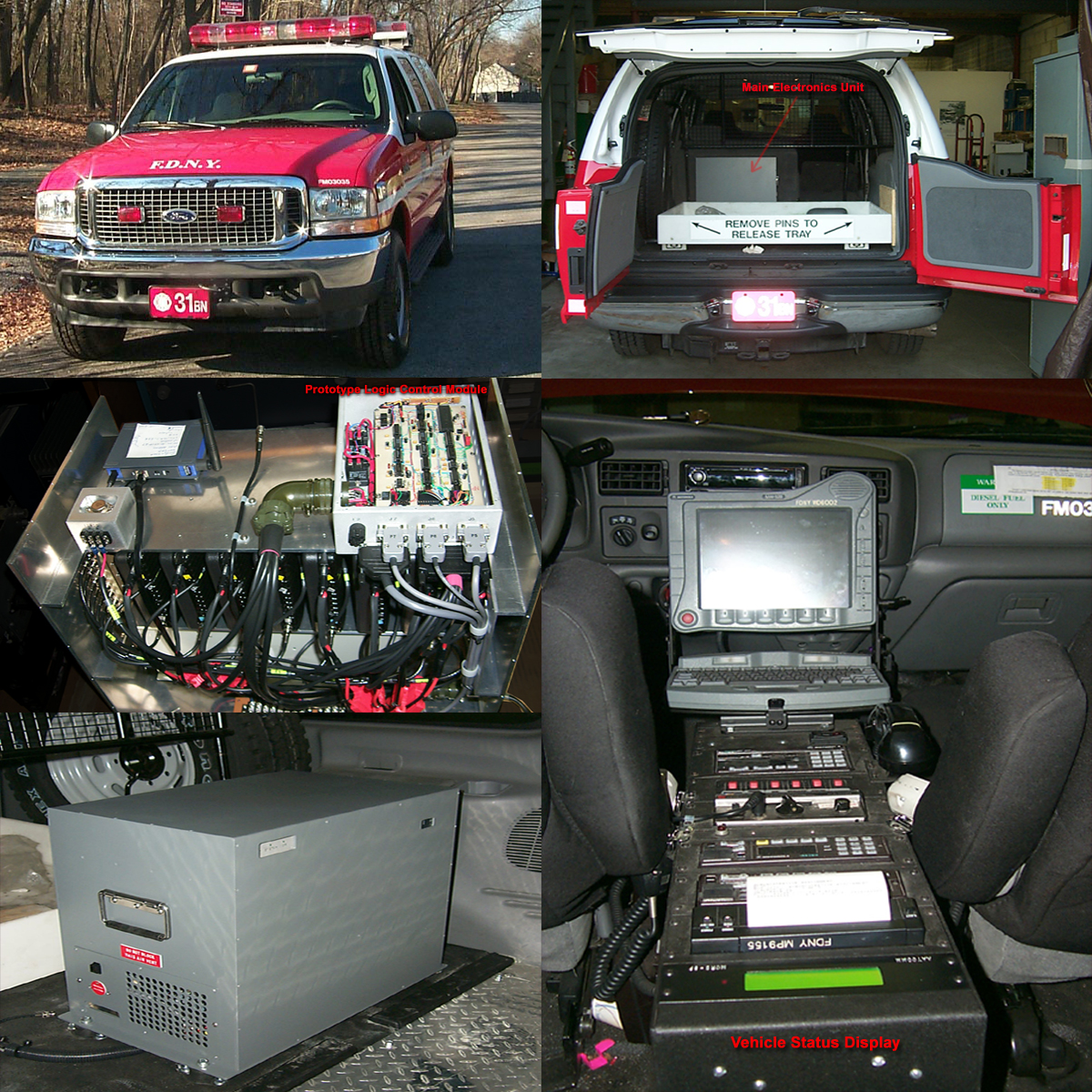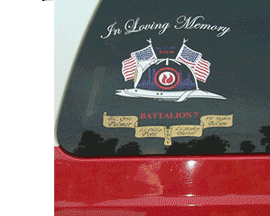 .
Top left - UHF T-Band and 2.5 GHz. WiFi antennae are installed in front of the light bar on the "Battalion 3-1" Ford Excursion.
Top right - Rear of the vehicle with the M.E.U or main electronics unit visible inside the slide-out tray that will be fully loaded to the overhead with fire fighting and safety equipment upon redeployment.
Center left - Inside the M.E.U. and seen at the very bottom is the prototype recorder module above which are eight (8) Motorola MCS-2000 radios, precursor to the current XTL-5000 radios. Top row shows the prototype LCM or Logic Control Module right side of photo.
Lower left - M.E.U housing. Shock-mounts are just visible in the lower edge of the photo.
Lower right - The Troy console between the front seats with the vehicle system status monitor panel visible closest to the viewer.
.
Citywide deployment required installation of TCRS vehicular systems in 50 battalion vehicles, one Field Comm Unit and 12 vehicles used as fleet spares that rotate through the battalions . . . in addition to Battalion intermediate servers at 51 locations throughout New York City.
The end result of this effort is a robust and secure Centralized Archive and Playback System accessible from anywhere within the FDNY LAN/WAN.
Product information here.